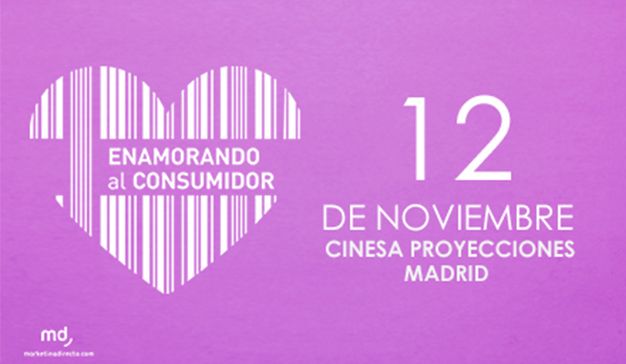 Conocer al consumidor, escuchar sus necesidades y mantenerle en el foco de toda estrategia de marketing son claves para conseguir el anhelado objetivo de marca: enamorarle.
Marcas y consumidores viven en una realidad tremendamente cambiante, marcada por un revolucionario universo digital y una tecnología que avanza a pasos agigantados, y que ha transformado por completo los hábitos de la sociedad y la forma en la que el cliente interactúa con las marcas.
La evolución de estos hábitos de consumo y de las necesidades de su audiencia suponen un auténtico desafío para las marcas, cuyo fin último es mantenerse fuertes no solo en la mente de sus clientes, sino también en su corazón. Entonces, ¿cuál es el secreto para conquistar a un consumidor cada vez más exigente?
Encontrará la respuesta a este gran reto en "Enamorando al consumidor", el evento organizado por MarketingDirecto.com que se celebrará el próximo 12 de noviembre (09:00 -18:30 horas) en Cinesa Proyecciones Madrid, situado en Calle de Fuencarral, número 136 de Madrid.
En esta gran cita del marketing, la publicidad y la creatividad, un elenco de ponentes de excepción profundizará sobre la situación del sector y los aspectos más cruciales para convertirse en una auténtica lovemark.
En el programa de "Enamorando al consumidor 2019" se encuentran nombres como Eva Santos, Directora General Creativa en Proximity Worldwide; Enric Nel-lo, Partner/Executive Creative Director en Full Circle Karma; Ramiro Sánchez, Country Manager Director – Spain & Portugal en Google; Kerman Romeo, Senior Brand Manager en Seagram's Gin; Daniel Godoy, Head of Digital South West Europe en PepsiCo; Esther Morell, Creative & Social Marketing Manager en Samsung; Amaya Coronado, CEO en LOLA MullenLowe; Miguel Justribó, Chief Purpose Officer en Telepizza; Jesús Sancho, Head of Carrefour Media Spain en Carrefour Media España; Telmo Pagalday, Líder de Contenidos en Pernod-Ricard; Antonio Espinosa, Cofundador y CEO en Auara; Agustín Vivancos, Fundador y CEO en PS21; o Kristel Martopoulou, Affiliation, Display & Metas Manager en Viajes El Corte Inglés.
Además, los patrocinadores del evento, Facebook, T2O media, Carrefour Media, MediaCom, TAPTAP, Integral Ad Science, PS21 y The Trade Desk, también forman parte del cartel del evento.
A través de una jornada de ponencias, mesas redondas e infinidad de sorpresas, el evento explorará temas clave para lograr esa ansiada notoriedad en un mundo donde la competencia es cada vez mayor. Más de 30 profesionales referentes de grandes marcas y agencias que enamoran compartirán su visión y estrategia para ser auténticos líderes en emociones.
"Aproveche la oportunidad de sumergirse en el universo de las marcas que más brillan en un evento ineludible para mantenerse al día de las tendencias que lideran el mercado. Compre su entrada ya", sugieren.